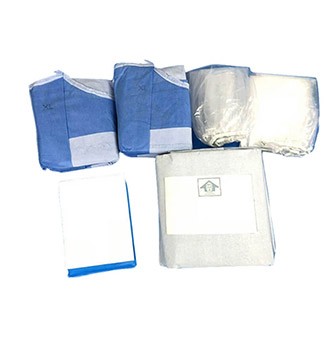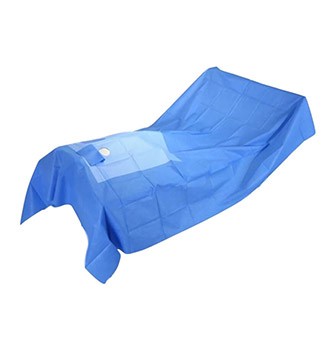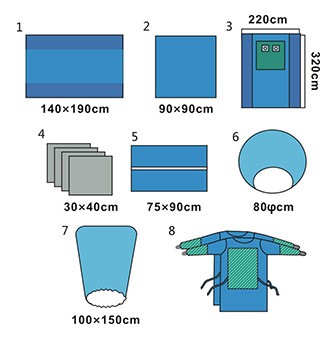 Angiography Drape Pack
Angiography Drape Pack is ideal for different angiography surgical procedures. It offers procedural accessories essential to the surgeon
Description
Angiography Drape Pack is ideal for different angiography surgical procedures. It offers procedural accessories essential to the surgeon, such as Femoral Angiography Drape, uniquely designed for the special needs of Angiography procedures.
General Pack Features
1.Isolation:Isolating contaminated areas from operating areas.
2.Barrier:Preventing fluid and microbial penetration.
3.Fluid Control: Collecting body fluid and irrigation fluids.
4.Comfortable: Light gram, soft, and breathable.
Parameters
Item

Angiography Drape Pack

Specification

Name

Size

QTY

Material

Back Table Cover

150×140cm

1

PE+SMS

Sterilization Wrap

90×90cm

1

SMS

Femoral Angiography Drape

220×320cm

1

SMS

Hand Towel

30×40cm

4

Medium Drape

75×90cm

1

SMS

Light Cover Round

Dia 80cm

1

Light Cover Square

100×150cm

1

Reinforced Surgical Gown

XL

2

SMS

All the specification and contents can be customized

Material

SMS,SSMMS, PE+PP,PE+SMS, PE+Hydrophilic PP, AAMI PB70 part, etc

Sterile

EO(Ethylene Oxide)

Package

Sterile Pouch, 10 packs/carton, carton size: 60×40×50cm

Certificate

ISO9001:2016; ISO13485: 2016 and CE(93/42/EEC) issued by TUV Rheinland
Inquiry
Interested in or need our products, please fill out the form, we will reply to you as soon as possible.