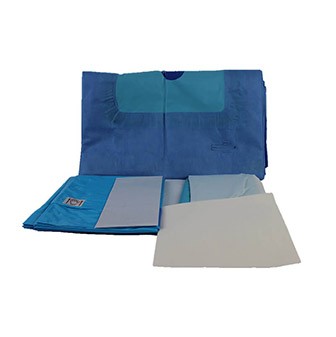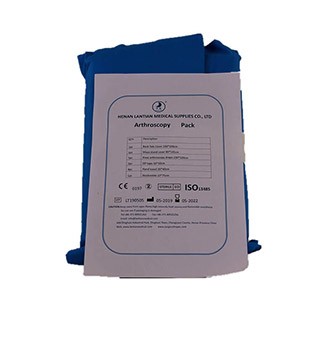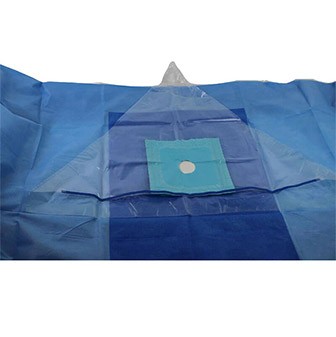 Knee Arthroscopy Pack with Gown
This Knee Arthroscopy Pack with Gown is a type of Surgical Pack. It can effectively provide protection for doctors and patients in surgical procedures with the Arthroscopy T Drape
Description
This Knee Arthroscopy Pack with Gown is a type of Surgical Pack. It can effectively provide protection for doctors and patients in surgical procedures with the Arthroscopy T Drape and surgical gowns and offer the optimum combination of features to meet the rigorous demands of surgery.
General Pack Features
1.Isolation:Isolating contaminated areas from operating areas.
2.Barrier:Preventing fluid and microbial penetration.
3.Fluid Control: Collecting body fluid and irrigation fluids.
4.Comfortable: Light gram, soft, and breathable.
Parameters
Item

Knee Arthroscopy Pack with Gown

Specification

Name

Size

QTY

Material

Back Table Cover

140×190cm

1

PE+SMS

Mayo Stand Cover

78×145cm

1

PE+Hydrophilic PP

Arthroscopy T Drape, fluid collection pouch 83×75cm, Circular Elastic fenestration 6cm, Absorbent reinforcement 75×120cm

220×280×290cm

1

SMS+Absorbent area

Suture Bag

1

OP Tape Strip

10×50cm

2

Leggings

23×100cm

2

Hand Towel

30×40cm

4

100% wood pulp paper

Reinforced Surgical Gown

XL

2

SMS

All the specification and contents can be customized

Material

SMS,SSMMS, PE+PP,PE+SMS, PE+Hydrophilic PP, AAMI PB70 part, etc

Sterile

EO(Ethylene Oxide)

Package

Sterile Pouch, 10 packs/carton, carton size: 60*40*50cm

Certificate

ISO9001:2016; ISO13485: 2016 and CE(93/42/EEC) issued by TUV Rheinland
Inquiry
Interested in or need our products, please fill out the form, we will reply to you as soon as possible.